Dear All,
On this day, RRGO is joining and with the world community to recognize and care the feeling of a panic attack, somatization behaviours, depression, PTSD and other related disorders suffered by mental health patients.
Everyone can be mental health patients and every patient can be cared and treated and back to his wellbeing.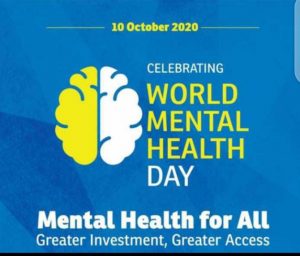 In this periods of Corona virus pandemic, we have in thoughts people who are suffering from anxiety disorders due to deaths from beloved one because of this virus, Economic hardship due to COVID 19, living in isolation and quarantine and stigma due to tested positive coronavirus.
Rwanda Resilience and Grounding organization(RRGO) will keep hearing actively, supports and care those people to help them to restore, recovery and back in their resilience and supports them to wide their resilience zone through psychological supports, Laughter yoga, community resiliency model skills and green space intervention for back in mental health restoration.
Together, we can help each other to end stigma and facilitate community to access mental health services  and restore their resilience.
" Think about your positive events, place, persons  and feel the place or the events." If you sense positive, calm, relax and joyful, laughter and relaxation. Stay there. Last take minutes to ground in green space, communicate with trees and sens the waves and smells from green spaces.
Feel it and love it.
Samuel HABIMANA,Bsc, MPH.
Executive DirectorRwanda Resilience and Grounding organization(RRGO).
Web:www.rrgo.org
Email: info@rrgo.org;